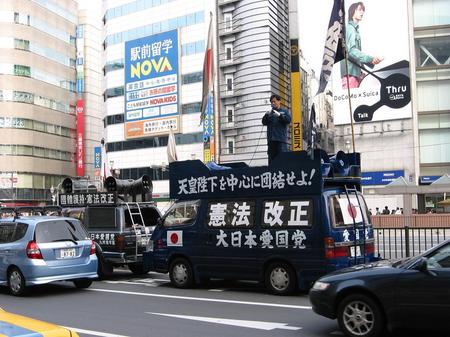 He is not alone because he has positive belief to rely on,I guess.

The right wing people like them have been under taboo for the Japanese media to cover because of their acts of violence against democracy in the past.They haven't been reported except for special cases such as balancing the left wing with them.
Is that the way it goes?

This group became big-name at 3:05p.m. on the 12th of October in 1960,when a 17year-old boy assassinated the party head of the Japanese Socialist Party with his dagger on the stage of the Hibiya-hall where the panel by 3 party leaders had been being held.It happened in front of a lot of audience.It had been also being broadcasted by a TV station.
The boy was told to have had a certain connection with the head of the group.
I`ve once met the head named Bin Akao in Naha,Okinawa.

"Your paper is my foe.But I've decided to meet you because you showed up to ask me."
He said,with big eyes and a long face.
He seemed couteous and witty.

A lean man in mild of manner sat next Akao.He gave me a calling card.
He was the person who had knocked the face of the prime minister Miki at that time down on the ground in public at a venue of a state funeral in 1975,I recognized afterwards.
His second name was "Fudeyasu",I remember.

Once a playwright,Kazuo Kasahara said:
"Politicians and bureaucrats have become dirtier because terrorism has died out."

The famous series of films titled "Jingi naki Tatakai" have had a big influence for Quentin Tarantino,the director of the films titled "Kill Bill".
He confessed once.
Kasahara wrote almost all the senarios of those films
=on the 19th Feb,at Ikebukuro.
()