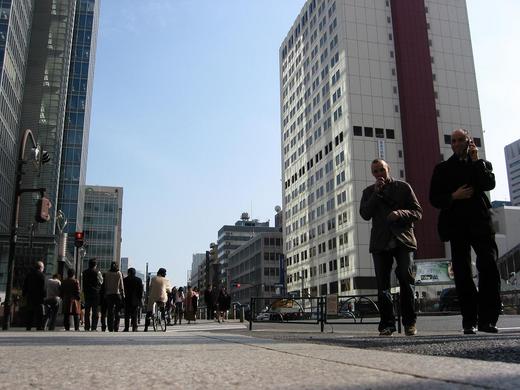 I took photographs from the the ground level, placing my camera on the ground.

The position is lower than the "low position camera" of the deceased Japanese film director,Yasujirou Ozu.
That's all.

He was the big maestro.Admired as equally as the late Kurosawa.

Ozu described people internally,setting stories in homes or companies.
Whereas,Kurosawa made a point of the stories which make audiences' hearts leap up.

Ozu's films are the ones which lead people into thinking of their lives or the meaning of life.
Not exciting compared to Kurosawa's.But an inteligent people's liking,I think.

The white building on the right in the picture is the headquarters of the film company which he worked for at that time.
=at 4 chome ()