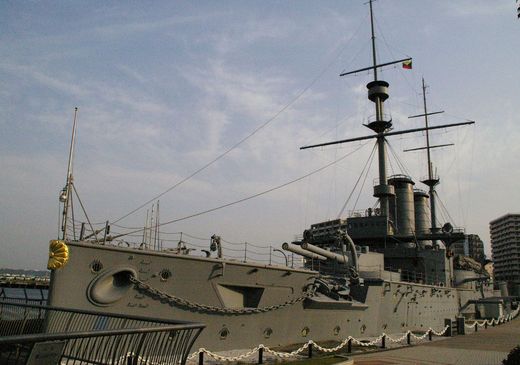 The flagship "Mikasa" of the Japanese fleet which smashed the Baltic fleet of Russia on the 27th of May in 1905 near Tsushima-island between Fukuoka-prefecture and Korea in the Sea of Japan.

It is showed at "Mikasa-kouen" park of Yokosuka-city in Kanagawa-prefecture now.

We can see the bridge on the top of the mast where Admiral Togo kept on standing during the sea fight.
()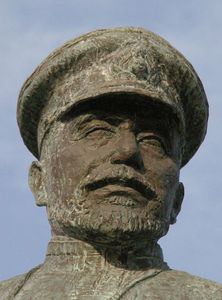 The statue of Admiral Heihachirou Togo(1848-1934).

He continued to stand at the same point on that bridge over 5 hours while the sea fight was going on.
Because of the pillars of sea water which were made with a lot of bombardments by the enemy,the whole flagship was soaked completely with seawater.

But on the floor of the bridge,they found only 2 dry points.

Those were the places where Togo had been standing without any move
.
()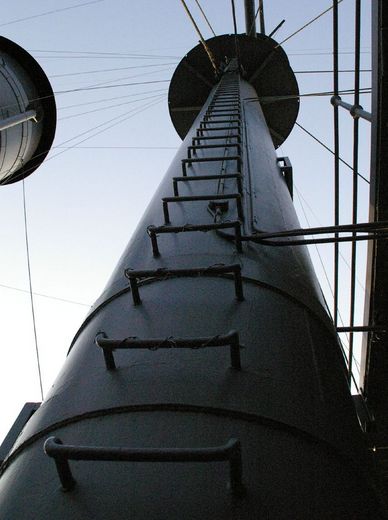 Togo went up this ladder to the bridge on the mast.
At that time he was 57 years old.
()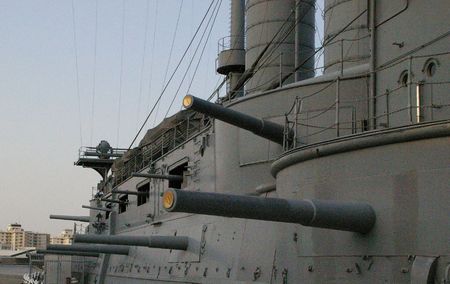 Among 38 warships of the Baltic fleet from Russia,19 were sunken with the severe fire of the Japanese fleet,5 surrendered,and 10 were destroyed.

Meanwhile Japan lost only 3 torpedo boats.

It was the most singular victory which human beings had ever seen
.
()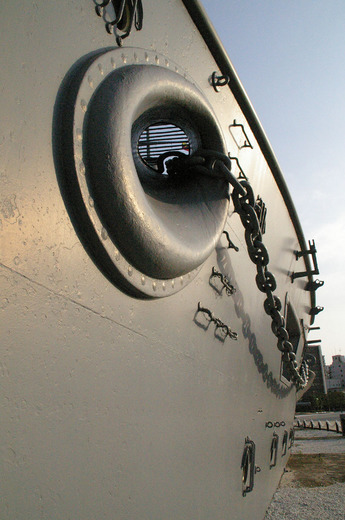 Before the sea fight,the most singular victory was accomplished by England at the Trafalgar sea fight in 1805.

But the number of the warships which were sunken with fire or captured was 22 out of 33.
Moreover famous Admiral Nelson was killed in battle.

Wilson,a famous English researcher of the history of wars at that time said,admiring the Japanese Navy:

"We haven't ever seen such a perfect big victory in the past."
()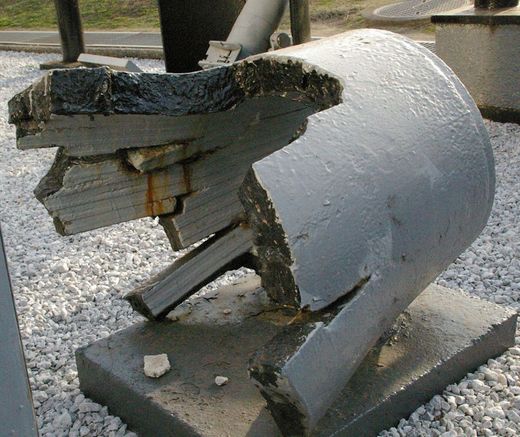 It is the head of an artillery of a Russian warship that was broken with blast by Japanese attack during the fight.

The thickness of the gun barrel is over 5 centimeters
.
()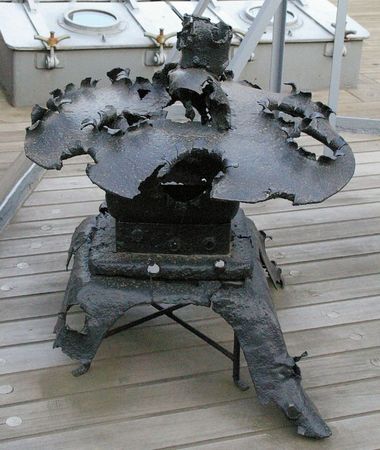 An objet which was made of iron plate with the holes made with shell by Russian stormy fire.

The plate was torn from the "Mikasa".
()